Q&A: The daily life of a facility manager
Peter Juchau shares some behind the scenes of his role with Cushman & Wakefield.
In this Q&A session, Suncorp's facilities manager explains the opportunities and challenges that abound when working in space, as well as career advice for anyone looking to get into the sector.
What's the first and most important thing on an FM's to-do list for the day?
Finish those essential admin tasks before the day gets busy!
Whatever your role in the facilities industry, being organized and managing priorities is the key to success. Getting back to clients with updates, tracking actions, holding meetings with contractors, managing invoices, scheduling inspections, or prioritizing your team's activities all require effective management.
Having a regular check-in with your team is also a great way to work collaboratively.
What do you prefer in your role?
In the world of facilities management, a lot of time is spent dealing with issues of all shapes and sizes. Finding solutions and resolving them quickly turns a bad experience into a great one.
I so love to hear good feedback about the team in resolving a complex or critical issue, or receiving recognition for quickly reopening a site after a storm.
What is the hardest part of your role?
Expect the unexpected. Ideally, having your day fully planned out and ticking off each task would be great. With an extensive national portfolio, you will need to manage many unforeseen issues, from service disruptions to plant and service outages, to the impacts of weather and human events.
Be prepared that these don't all happen during the normal working day and sometimes happen over a weekend. Do you have good processes in place, all your key contacts saved on your phone, and a crisis communication plan?
What's the best career advice you've ever received?
You don't have to be an expert at everything to be a great facilities manager. Gain knowledge and build relationships with experts in the many roles of corporate real estate such as leasing, project management, finance, sustainability and the workplace. Facilities managers have an important role to play in the end-to-end management of real estate and the more you understand every aspect of the industry, the more effectively you can manage your portfolio.
How do you and your team meet the ever-changing needs of occupants?
Managing an ever-changing workplace has become a facilities manager's mantra during the COVID pandemic and continues in the hybrid workplace, which is embedded in most organizations.
Being proactive, using data-driven insights and seeking feedback has been and continues to be key to meeting our customers' needs. For example, understanding that office occupancy is heavily weighted on key days of the week allows for better management of resources and services such as air conditioning, cleaning, and milk supply. Going through the floors and seeing first hand what's happening or not happening continues to provide valuable references.
What building management tools and technologies could you not live without?
If you don't have a team member based at each site in your portfolio, having access to site information and photos is essential. Knowing what the back office area of ​​the Darwin branch looks like is very useful and will save you time and money from having to go there urgently.
At Cushman & Wakefield, we capture hundreds of data points and images with our mobile field inspection tool. For a facilities manager, easy and timely reference to information enables informed and timely decision making. This tool also captures asset data, allowing us to model and then forecast operational and end-of-life capital budgets.
What is the most frequently asked question and how do you solve it?
When managing a tenant's portfolio, clients are often unsure whether the obligation to repair is their responsibility or that of the landlord (lessor). Having a fundamental understanding of leases, tenant layout, v-capital operational responsibility, and site-specific lease clauses are all considerations. It is in the owner's interest to continue to repair an asset and pass on these costs, so using your data will allow you to negotiate the most effective outcome. If an air conditioning system fails continually, having this data to support replacement will provide better long-term results for your customer.
How important is sustainability in your role?
With the built environment contributing nearly 40% of global carbon emissions, with climate change having a more constant impact on physical assets and the escalating cost of energy, the implementation of a sustainable development strategy Future-oriented is essential to successfully manage a real estate portfolio.
Cushman & Wakefield's expertise in analyzing, developing and delivering work programs puts our clients at the forefront of sustainability by leveraging our global reach and experience.
With the focus now on Scope 3 emissions reporting, we are able to help our clients capture and interpret data, establish baselines and create effective and timely strategies.
What advice would you give to someone considering a career in FM?
Facilities Managers are the backbone of the real estate team. They are responsible for the safe and efficient management of offices, retail stores, industrial warehouses, schools, hospitals and more. If you are well-organized, like to be busy with lots of on-the-go activities, and have a customer-focused mindset, a career in facilities management is recommended. There are now plenty of opportunities for formal qualifications to consider as well.
If you could change or improve one thing in the world of FM, what would it be and why?
Facility managers have an excellent knowledge of operational design. So I would like to see more project teams engage the facilities team during the design phase and throughout the construction period of a project.
I would also like to see the gender disparity in facilities management decrease as we strive to encourage more women to work in this exciting sector.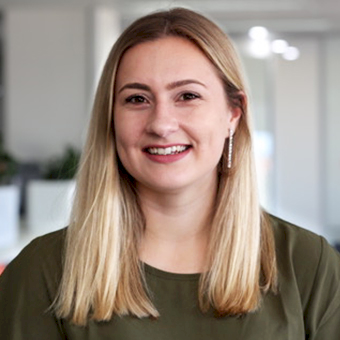 Grace Ormsby
Grace is a reporter for real estate and investment brands Momentum. Grace joined Momentum Media in 2018, bringing with her a Bachelor of Laws and a Bachelor of Communications (Journalism) from Newcastle University. She is passionate about providing easy-to-digest, relevant information and content for her key audiences and stakeholders.